St John's School PFA Summer Fair
Saturday 24th June, Midday to 2.30pm
Our fantastic summer fair is back!
Bigger and better than ever before, the St John's CEP School PFA Summer Fair will have something for everyone. Kindly supported by Mother Goose You can find out more below, or jump straight to the raffle prizes.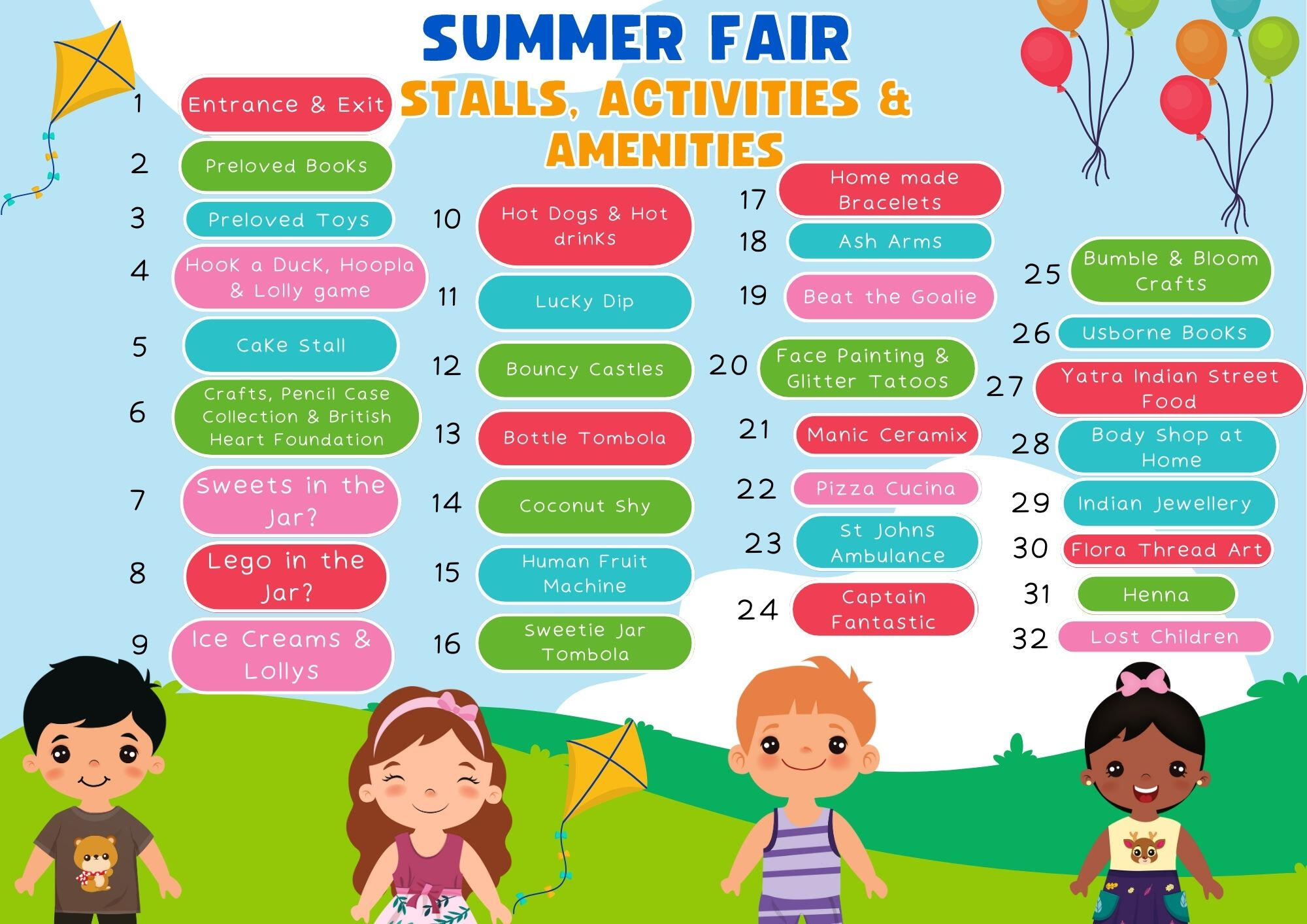 Check out these sweet prizes!
Our raffle this year has a mega-haul of fantastic prizes, thanks to generous local businesses and families. Here's what you could win:
Plus over 30 other amazing prizes to be won!
£25 hair voucher from Gemini Hair

A Boheme Candle from Boheme Candles

A voucher for Blackwell Bakes

Free meal for 2 (weekdays, ex drinks) from Zorba

Pizza for 6 from The Shuffle House

£50 food and drink voucher from The Beau Nash

1 x 30 day pass from Nuffield Health Gym

Old Ballantruan whisky RRP £58 from Angus Dundee Distillery

£50 voucher for Sun Jellies

A baby bundle including blankets

2 make up lesson vouchers worth £60 from Make-up Artist Ewelina Burrell

One free day at holiday club from Tigers Gymnastics

A Jigsaw, print, mug, coasters and magnet from Debbie Draws Maps
Privacy Policy
It is the policy of St John's CEP PFA to respect your privacy regarding any information we may collect from you or which you may provide to us, in the circumstances set out below. Accordingly, we have developed this privacy policy in order for you to understand how we collect, use, communicate, disclose, safeguard and otherwise make use of your personally identifiable information ("Personal Data").We will only collect and use your Personal Data where:
• we have lawful grounds to do so, including to comply with our legal obligations;
• we are performing a contract with you for our services; or
• we have legitimate interests in using your Personal Data and your interests and fundamental rights do not override those interests.For the purposes of the EU General Data Protection Regulation ((EU) 2016/679) ("GDPR"), we, St John's PFA, are the "data controller". If you have any questions about this policy or about how we use your Personal Data, please contact us via our contact details at the end of this policy.This policy is effective as of May 2022. We review our privacy practices on an ongoing basis, and as such we may change this privacy policy from time to time. Please check this page frequently to ensure you are familiar with its current content.1. Personal Data we collect via this website (the"Website")Personal Data that you provide to usWe do not collect any personal data using this website, except information that you send to us by email using the contact details provided, see below.Data that we collect automatically
At St John's PFA, we do not collect any further information or use cookies.2. Use of your Personal Data
We will only use your Personal Data when the law allows us to. Most commonly, we use your Personal Data to:
• respond to your questions, comments and requests;
• improve our services and Website through analysis of information.3. Sharing of your Personal Data
We take your privacy seriously and will not share your Personal Data with others, except as permitted by applicable law or as set out below:We share Personal Data as necessary with third parties who provide services or functions on our behalf and who require the information to provide those specific services to us.4. Keeping your Personal Data secure
We have implemented security policies and technical measures to safeguard the Personal Data we collect. We maintain physical, electronic and procedural safeguards that comply with applicable law, including the GDPR, to safeguard Personal Data from accidental loss, destruction or damage and unauthorised access, use and disclosure.5. Retention periods for use of your Personal Data
We will use and store your Personal Data only for as long as necessary, bearing in mind the uses of your Personal Data as described in this privacy policy and otherwise as communicated to you. We review the Personal Data we hold at regular intervals and delete permanently or anonymise any Personal Data which is no longer necessary.6. Children
This Website and our services are aimed at adults, and we do not knowingly collect any Personal Data relating to children aged under 15 years old.7. Access to and control over your Personal Data
You have legal rights under applicable law in relation to your Personal Data. You can ask the following questions, or take the following actions, at any time by contacting us via email or via our postal address at St John's School:
• see what Personal Data we hold about you (if any), including why we are holding it and who it could be disclosed to;
• ask us to change/correct your Personal Data;
• ask us to delete your Personal Data;
• object to the processing of your Personal Data;
• ask us to restrict the processing of your Personal Data;
• withdraw any consents you have given us to the processing of your Personal Data; and
• express any concerns you have about third parties' use of your Personal Data.8. Change of purpose
We will only use your Personal Data for the purposes for which we collected it, unless we reasonably consider that we need to use it for another reason and that reason is compatible with the original purpose. If you wish to have an explanation as to how the processing for the new purpose is compatible with the original purpose, please contact us.
If we need to use your Personal Data for an unrelated purpose, we will notify you and we will explain the legal basis which allows us to do so.9. Contact Us
Email for Privacy Questions: stjohnsfairtw@gmail.com
Postal Address: PFA, St John's CEP Primary School, Tunbridge Wells TN4 9EW
© St John's PFA. All rights reserved. Queries/questions: stjohnsfairtw@gmail.com See our Privacy Policy